Please join us for 2017 Annual Wild Game Feed
April 14th at the 1912 Center, Moscow, ID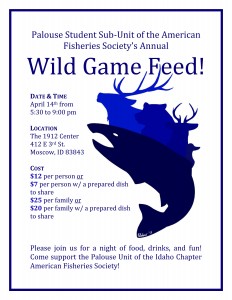 The event runs from 5:30 to 9:00 pm at the 1912 Center (412 E. 3rd St)
Cost is $12 per person OR $7 w/a prepared dish to share
$25 per family or $20 per family w/a prepared dish
 This is our major fundraiser for the year which allows student members to go on field trips, attend the ICAFS annual meeting, and other PUAFS sponsored activities.
So far our list of items for bid include:
-Cabelas prestige 9 ft 6 wt fly rod and reel
-Cabelas King Kat rod and reel spinning combo
-Trigger Fish print and frame
-PUAFS photo contest winner print and fram
-Eagle Claw rod and reel spinning cobo
-Custome 3 wt University of idaho fly rod with Galvan reel and Orvis fly line combo
-Steelhead trip donated by Jay Hesse
-Spey rod Steelhead trip donated by Matt Corsi
-MORE TO COME!!!
**Winners of the 2016 Western Division Outstanding Student Sub-Unit Award!**

The Palouse Unit of the American Fisheries Society is for all students interested in fisheries conservation, health, recreation, management, and production.  In addition to annual club events, we are actively involved in many service projects providing opportunities to engage with fisheries professionals.